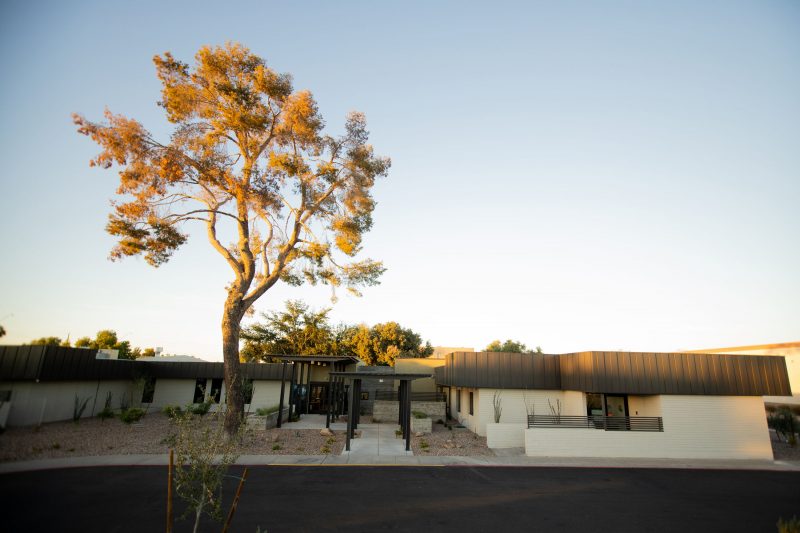 It can be difficult to admit when you or a loved one needs some extra help, but know you're not alone. Everyone needs help sometimes. According to the Centers for Disease Control and Prevention (CDC), roughly 818,800 Americans live in residential care communities.
Residential care facilities can range from communities offering private yet communal environments for seniors with only mild assistance needs to full-time care facilities for a loved one who requires constant supervision. If you or a loved one can no longer fully take care of yourself/themselves, check out some of your options below.
What are independent living facilities? 
According to Forbes, independent living facilities are commonly intended for adults older than 55 who can still live independently but could benefit from moderate assistance and a community atmosphere. Sometimes referred to as "retirement homes," "senior living facilities," or "senior living homes," these types of communities are basically "senior apartments" that offer amenities specific to residents' needs. These needs can include communal socializing spaces like a clubhouse or a pool and planned social activities.  
Usually, these types of homes also include safety precautions for quick medical access should something happen, such as a heart attack, stroke, fall, etc. They also tend to have staff that can help you or your loved one find affordable services to help with things that may be getting more difficult with age, like housekeeping services, laundry services, transportation options, and meal planning.
Assisted living vs. nursing home 
Assisted Living 
According to the National Institute on Aging (NIH), an assisted living facility is a residential care community that provides extra help for people who can no longer fully care for themselves. Generally, these are for people who still desire to live more independently and in their own space. Assisted living is a broad term that covers any type of person who needs some kind of help put in place for them to continue to live comfortably and healthily. The level of care tends to vary depending on individual needs. Types of services tend to include:
Meal services

Laundry services

Cleaning services

Medication assistance

24-hour access to help/supervision when needed

Access to common areas for socializing
Nursing Home 
According to the NIH, nursing homes provide around-the-clock nursing care for patients who require some level of medical care. These types of care facilities also provide all the patient's meals and assistance with tasks. Some nursing homes may also have access to physical therapy, speech therapy, and/or occupational therapy. Nursing homes tend to be designed to provide long-term residential care.
Skilled nursing facility vs. nursing home 
Skilled Nursing Facility 
According to United Healthcare, a skilled nursing facility is a facility that provides around-the-clock care from trained and licensed nurses under the supervision of a licensed doctor. A nursing care facility is the next best thing to being in the hospital when it comes to the level of medical care. Skilled nursing facilities are ideal for patients who need to recover from serious surgeries, injuries, or illnesses. Skilled nursing facilities focus on short-term recovery as opposed to long-term care.
Nursing Home 
Nursing homes may not have a doctor on staff, and often the nurses aren't registered nurses (they are usually nurse aids working under a registered nurse). This makes nursing homes a better choice when it comes to long-term care facilities for people not at serious medical risk. These people may still require medical care due to a chronic condition, disability, mental decline, behavior issues, or some other medical issue. Sometimes nursing homes are also skilled nursing facilities, although patients are typically separated by level of care.
Related: Ventilator Care
What is the best option for memory care? 
If you or your loved one needs a residential care facility due to a need for memory care, there isn't necessarily one right answer to this question. Dealing with the effects of dementia and dementia related to Alzheimer's disease or another medical condition is very individualized. The type of long-term care facilities you should consider will depend on what types of services you or your loved one require, as well as the extent of memory care and supervision they offer.
According to the Mayo Clinic, when deciding on a long-term care facility for you or your loved one, it's important to think about current and future needs such as:
The level of help needed for personal grooming.

Medication administration.

Management for other chronic conditions (diabetes, heart disease, high blood pressure, etc.).

How much oversight is necessary.

Short-term and long-term costs.

How involved a personal caregiver may want to be.

Principles of the care facility.
Finding The Best Care
Admitting that you or a loved one may need help fully addressing daily needs isn't easy. Luckily, there are a lot of resources available to help out with this transition. Knowing your options is the best way to make an informed decision.
If you or a loved one is looking for long-term care facilities, Haven Health offers individualized options for assisted living, skilled nursing care, physical therapy, memory care, and more. Check out Haven Health today.
Citations:
Alzheimer's and other dementias: Long-term care options. (2021).
Lauretta, A. (2022). What Is Independent Living?.
Residential Care Communities. (2022).
Residential Facilities, Assisted Living, and Nursing Homes. (2017).
What's the difference between a skilled nursing facility and a nursing home?. (2023).