Specialty Infusion Care at Haven Health
At Haven Health, we understand that finding the right care after an injury, illness or hospital stay can sometimes be overwhelming. Our skilled nurses can provide you or your loved one with the targeted treatments needed for recovery and the compassionate care to thrive.
what is Specialty Infusion Care?
Post-acute patients and patients with special conditions sometimes need non-standard care for the best possible recovery. When a patient's condition does not allow for standard medication and common administration methods, doctors often prescribe infusion therapy to provide the level of anti-infection, pain management or nutritional care needed for recovery.
Through non-oral routes such as injections and intravenous drips, skilled nursing professionals can use powerful combinations of drugs to have much more effective results on a patient's condition. These treatments can make a dramatic difference in the success for pain management, recovering from complex wounds or treating chronic illness. Our skilled nursing and rehabilitation centers offer these targeted treatments along with the ability to assess patients' needs for rehabilitation, physical therapy, and other specialized care. Contact our team to learn more.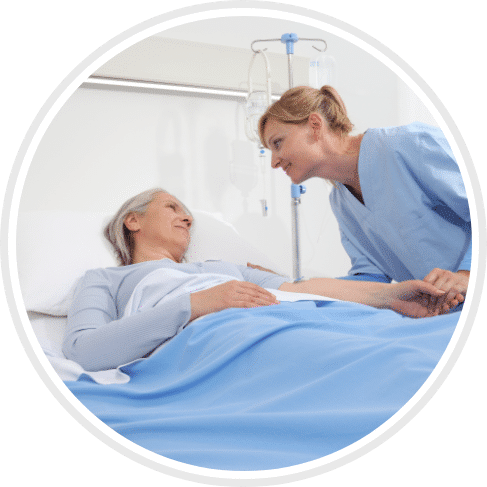 With 18 locations across Arizona offering Specialty Infusion Care, Haven Health offers the perfect solution for your needs. Contact us today for a free consultation.
how does Specialty Infusion Care work?
The skilled nurses at Haven Health can support you or your family member through every step of recovery. Our patients have access to a dedicated team of passionate care providers to manage their prescribed treatments in a comfortable and relaxing setting. We provide a holistic approach to a successful recovery with exceptional amenities and expert medical advice from the best physicians and care practitioners in the area. Our focus is to understand our patients' needs as a whole so we can use the treatment plan that works best.
But Haven Health's skilled nursing care facilities offer more than just specialty infusions. We also provide:
A warm, healing environment built on trust and compassion
Experienced and licensed medical professionals who are passionate about what they do
Protective measures to ensure the safety of our residents
Coordination with doctors for the most effective treatment plan
Transitioning
Our skilled nurses and care providers have safety procedures in place to help patients carefully transition into our care during the course of their treatments.
Transportation
When needed, Haven Health can schedule and arrange transportation to and from follow-up appointments when personal doctors are unable to visit our facilities.
Insurance and Costs
Physician-ordered skilled nursing care is generally covered under Medicare Part A, VA or a Medicare Advantage plan. Contact us to learn more.
Frequently Asked Questions
What is another name for infusion therapy?
Infusion therapy, also known as IV therapy or specialty infusion care, is a type of treatment that delivers medication directly into the bloodstream. Infusion therapy services can be used to treat a wide variety of conditions, including dehydration, cancer, and Crohn's disease. Infusion therapy can also be used to provide vitamins, minerals, and other nutrients that the body needs.
What is the cost of specialty infusion care?
Specialty infusion services can be costly, but many insurance plans cover at least some of the costs. In a specialty infusion center, the cost of these treatments can range from about $200 to $1,000, depending on the type of medication and dosage amounts administered. These infusions can be administered at a specialty care infusion center or through home infusion care.
how to get started
If you or a family member need specialty infusion therapy, Haven Health is ready to help. Contact our team now to see which skilled nursing facility offers the rehabilitation services you need in a location closest to you. Our compassionate caregivers can help you or your loved one get back to full health.
looking for more information?
We're here to help. Check out our services page for more information on what type of services are offered at a convenient haven health location near you, or send us a message below!