complex wound care at Haven Health
After a traumatic injury or accident, we understand that finding the right care during recovery can be stressful. Our caring professionals at Haven Health understand these stresses and want to surround residents with compassionate experts and a healing environment to help speed recovery in a safe skilled nursing care facility.
what is Complex Wound Care?
The key factor to understanding complex wounds is knowing if an injury requires bandaging, cleaning or dressing that cannot be done easily by the patient or by family members. These types of injuries are complex wounds, and the process of recovery may have many stages over the span of several months.
There may also be a danger of injuries worsening due to infection or other complications, requiring a trained eye to monitor closely and adapt treatments. Complex wounds need the care of professionals in a skilled nursing facility to heal. Contact our team to learn more.
Examples of complex wounds are:
Amputations and diabetic wounds
Infected or treatment-resistant wounds
Traumatic wounds or surgical wounds
Vascular wounds and ulcers
Wounds requiring debridement or negative pressure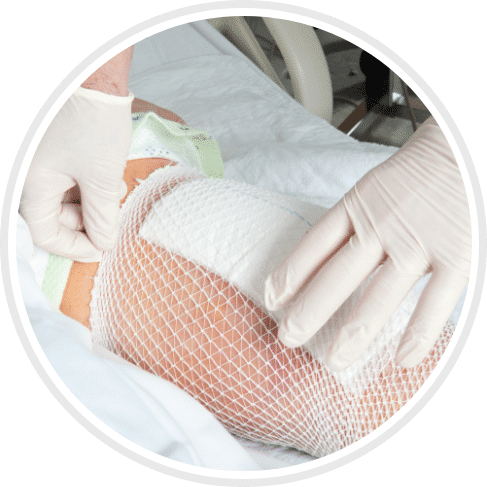 With 20 locations across Arizona offering complex wound care, haven health offers the perfect solution for your needs. Contact us today for a free consultation.
how does complex wound care work?
At Haven Health, residents have a dedicated team of passionate care providers to help them through recovery. Haven health treats the whole person in complex wound care, ensuring they also get the physical therapy, physiotherapy and other rehabilitation services they need to regain functionality. We follow strict procedures to ensure wounds are cleaned, bandaged, debrided and clear of infection by experienced care professionals—all while encouraging rest and recovery.
Our team is in regular contact with specialists and doctors while we provide transportation for patients to outside appointments if needed. Our team partners with residents and families to provide personalized care that helps speed recovery for a healthy return home.
Our Haven Health team provides:
A warm, healing environment built on trust and compassion
Experienced and licensed medical professionals who are passionate about what they d
Protective measures to ensure the safety of our residents
Coordination with doctors for the most effective treatment plan
Other post-acute care services, including rehabilitation physical therapy
---
Transitioning
Our skilled nurses and care providers have safety procedures in place to help residents carefully transition into our care when recovering from a complex wound.
Transportation
When needed, Haven Health can schedule and arrange transportation to and from follow-up appointments when a resident's personal doctor is unable to visit our facilities.
Insurance and Costs
We have a dedicated administrative team who can walk you through everything you need to know about insurance and costs associated with complex wound care.
Frequently Asked Questions
What is a complex wound?
Complex wounds are particularly treatment-resistant wounds that need care from skilled nursing professionals to ensure healing and recovery. Some examples of complex wounds include:
Diabetic ulcers (usually legs or feet)

Pressure ulcers (bedsores)

Chronic venous ulcers

Infected wounds

Slow-healing surgical sites

Gangrene
What are complex wound categories?
Complex wounds generally fall into four classifications of clean, clean-contaminated, dirty, or infected wounds. Because open sores or damaged skin are prone to infections if not treated properly, skilled nursing care is crucial to avoid these risks and promote healing.
How often should a complex wound dressing be changed?
Although complex wound care nursing requirements will vary from patient to patient depending on the severity of the wound or progression in the recovery process, most dressings can be left in place between 4-7 days, according to healthcare data. However, that number may be more or less frequently based on several factors, including moisture levels, pain management, and cleanliness.
Can caregivers do wound care?
While some caregivers can handle complex wound management for patients or loved ones, these wounds usually require skilled nursing care to prevent infection and other complications. Caring for complex wounds involves cleaning, assessing, and dressing the injury in a way that helps the affected area heal. Once a patient makes enough progress to go home, healthcare professionals should provide detailed instructions to caregivers to continue the treatment.
What is the cost of complex wound care?
The cost of wound care management depends on the type and severity of the wound. For more serious wounds that have become infected, treatment can be lengthy, more complex, and, therefore, more costly. However, insurance often covers medical needs relating to wound care in a post-acute setting. Speak to your insurance provider to see if your policy coverage includes treatment in a complex wound care center.
What is used to clean wounds?
Generally, an antiseptic solution is used to clean complex wounds to irrigate the site, wash away bacteria, and prevent infections. Wound management nursing professionals may also use sterile water or saline to flush out the wound.
What are the signs of an infected wound?
Common signs that a wound has become infected include:
Redness

Swelling

Pain accompanied by warmth

Fever

Discharge from the wound
Contact your healthcare provider immediately if you suspect your wound is infected. It will most likely need to be treated with antibiotics and cleaned to prevent further complications.
how to get started
For those who need treatment for a complex wound, Haven Health is ready to help. Contact our team now to see which of our skilled nursing and rehabilitation centers offer complex wound care and how our compassionate caregivers can help residents get back to full health.
looking for more information?
We're here to help. Check out our services page for more information on what type of services are offered at a convenient haven health location near you, or send us a message below!