behavioral therapy at Haven Health
At Haven Health, we understand that helping a loved one with progressing behavioral problems can be challenging without the right resources. The best environment is one that provides skilled nursing care in a secure, controlled environment. That's where we can help.
what is Behavioral Therapy?
Our nursing professionals provide specialized care for those who have experienced global cognitive impairment (GCI) due to brain injuries, progressing dementia, chronic alcohol or substance abuse, hypoxia and other conditions that cannot be successfully managed at home.
Our goal is to provide a therapeutic living experience in a secured long-term care setting that minimizes the use of medications. Behavioral care revolves around a structured program of skill-based social, behavioral and cultural approaches in an environment that makes patients feel safe and comfortable. Our caring professionals within our behavioral units have received extensive training to deal with the complexities of behavioral impairments. Contact our team to learn more.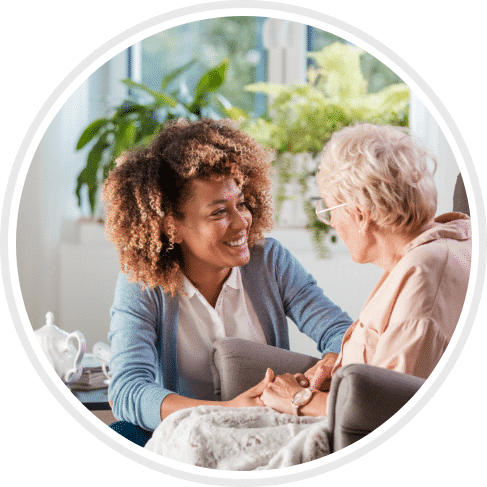 With 2 locations across Arizona offering behavioral therapy, Haven Health offers the perfect solution for your needs. Contact us today for a free consultation.
How does Behavioral therapy work?
Behavioral residents will have a dedicated team of licensed care providers with them every step of the way. Our patient-centered model avoids the use of medication and treats behavioral issues with patience and support from our highly-trained nurses and staff. We follow stringent guidelines and ensure we always have an appropriate number of direct caregivers with our behavioral therapy residents at all times. Contact our team to learn more.
Our behavioral care program
At Haven Health, we understand that caring for a loved one with behavioral issues on your own can be overwhelming. That's where we can help.
Our Haven Health team provides:
A warm, healing environment that is built on trust, respect and understanding
Experienced and licensed medical professionals at our nursing and rehabilitation centers
Protective measures to ensure the safety of residents and staff
Coordination with doctors for the most effective treatment plan
Caring professionals who are fluent in English, Spanish and Navajo
Enriching activities and engagement that gives our residents the best quality of life
Transitioning
Our behavioral program requires a careful admissions process, so we know residents are cared for properly. All related symptoms are assessed and treatment plans implemented by specially trained staff, all under the direction of state renowned physicians.
personalized care
We understand that behaviors are a way of communicating, so we adapt to our resident's needs and communicate on their level. Our team also partners with families to develop a personalized care plan that reflects the efforts and progress already made at home.
Insurance and Costs
Complimentary consultations are available to discuss everything you need to know about insurance and costs associated with behavioral therapy. We have a dedicated administrative team who can answer all your questions about our behavioral program.
How to get started
If you have a loved one with behavioral impairments who needs skilled nursing care, Haven Health is ready to help. Our exclusive behavioral program is offered at our Lakeside and Lake Havasu locations. Contact our team now to see which skilled nursing care facility is best and how our compassionate caregivers help residents thrive—one person and one family at a time.
looking for more information?
We're here to help. Check out our services page for more information on what type of services are offered at a convenient haven health location near you, or send us a message below!