alzheimer's memory Care at Haven Health
At Haven Health, we understand that caring for a loved one with Alzheimer's or memory issues on your own is challenging. Sometimes, the best support you can give is a safe and comfortable environment where they will get the skilled care they need from compassionate professionals. That's where we can help.
what is Memory Care?
Our skilled nurses provide specialized care for those who are experiencing progressive memory loss due to Alzheimer's disease, dementia and similar conditions that cannot be managed at home. Our goal is to help residents stay active by creating a structured routine based on planned activities, family connections and emotional needs. Memory care revolves around a safe environment with diligent caregivers that allow residents to get the care they need with dignity and respect. Contact our team to learn more.
Individuals may need skilled memory care if they:
Regularly experience sudden confusion or disorientation

Have memory lapses that interfere with activities of daily life (ADLs)

Have a noticeable decline in cognitive function

Are at risk of wandering and becoming lost

Have difficulty with multi-step tasks, including dressing or grooming

Have made unsafe decisions when left alone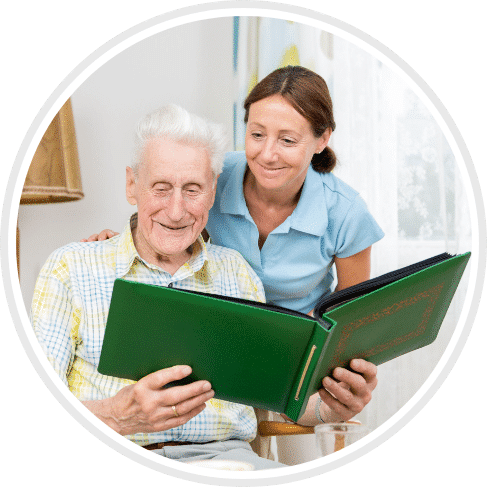 With 10 locations across Arizona offering Memory Care, Haven Health offers the perfect solution for your needs. Contact us today for a free consultation.
How does alzheimer's memory care work?
Haven Health residents will have a dedicated team of passionate care providers with them at all times. We focus on the individual and develop programs that align with their specific cultural and family values and preferences. We also evaluate prior health history and episodes that may have contributed to memory issues.
Our Haven Health team provides:
A healing, culturally-relevant environment that is built on trust and respect
Experienced and licensed medical professionals who are passionate about what they do
Protective measures to ensure the safety of our memory program residents
Coordination with a resident's doctor for the most effective treatment plan
Other skilled nursing services, including post-acute care and speech language pathology
Transitioning
Memory care requires a careful admissions process, so we know residents are cared for properly. All symptoms are assessed by specially trained staff to evaluate whether memory care or an assisted living facility is best.
Personalized Care
When you trust us with your loved one, we become your family's healthcare partner and work with your family to develop the personalized care plan your loved one deserves.
Insurance and Costs
Complimentary consultations are available to discuss everything you need to know about insurance and costs associated with memory care or nursing care in our assisted living centers.
Contact our team to learn more.
Frequently Asked Questions
1. What Kind of Care Do Alzheimer's Patients Need?
Memory care for Alzheimer's patients will vary based on the stage of Alzheimer's disease that the patient is currently at. Generally, Alzheimer's patients will need a safe and secure environment, memory-strengthening therapies, and increased care as symptoms develop or worsen.
2. What is the Difference Between Assisted Living and Memory Care?
The difference between assisted living and memory care for Alzheimer's is that memory care facilities offer specialized care for Alzheimer's patients or patients with memory loss. Generally, these facilities include around-the-clock care, specialized and trained staff, therapies that aid memory retention, and a safe and secure environment. Memory care facilities will usually offer everything that assisted living facilities offer with the addition of specialized and necessary care for memory loss.
3. Is Memory Care Right For My Loved One?
While those with Alzheimer's or dementia may remain comfortable and safe at early or middle stages of Alzheimer's, as cognitive functions decline many families will decide on memory care for their loved ones. As symptoms develop or worsen, socialization and specialized therapies will only be found in a memory care facility environment.
4. When is It Time For Memory Care?
Generally, the time for memory care for Alzheimer's will depend on the stage of decline in your loved one. The early to middle stages of Alzheimer's care at home can be comfortable and manageable. However, when symptoms like increased aggression, wandering, or heightened agitation occur, memory care is recommended. Memory care for Alzheimer's and the comfort and safety of your loved one are of the utmost importance when deciding whether it's time for a memory care facility.
How to get started
If a loved one has memory impairments and needs skilled professional care, Haven Health is ready to help. In addition to our memory program, we provide comprehensive care with skilled services, including speech therapy and physical therapy, to encourage communication and activity. Contact our team now to see which locations offer memory care services and how our compassionate caregivers can help our residents thrive.
looking for more information?
We're here to help. Check out our services page for more information on what type of services are offered at a convenient haven health location near you, or send us a message below!