Infectious Disease Care at Haven Health
At Haven Health, we understand that managing care for a serious infectious illness can feel overwhelming. Those dealing with an infectious disease deserve to get the treatment they need in a safe environment without feeling isolated or alone. That's where we can help.
what is Infectious Disease Care?
Infectious diseases are caused by living organisms, such as viruses or bacteria, that can pass from person to person without the proper care. They can be difficult or even impossible to safely treat at home due to the risk of spreading the disease. This is why it's important to find experienced skilled nursing professionals you can trust.
Infectious disease care at every qualified skilled nursing care facility follows careful guidelines and treatment plans to prevent the spread of infections while helping patients to reach a full recovery. Contact our team to learn more.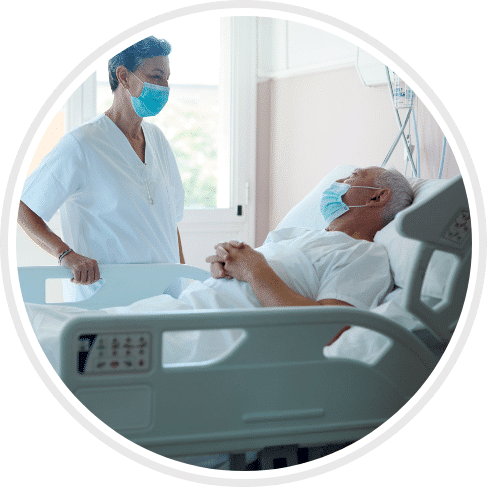 With 20 locations across Arizona offering infectious disease care, Haven Health offers the perfect solution for your needs. Contact us today for a free consultation.
How does infectious disease care work?
Residents have a dedicated team of passionate care providers to help them through recovery. Apart from this team, patients will be kept at a safe distance from others during treatment. To ensure the health of our residents and staff, our diligent team adheres to strict cleaning and sanitation guidelines, including our COVID-19 policies.
We know how important it is to stay connected to loved ones, and having the support of family members is essential for a successful recovery. That's why Haven Health utilizes technology to keep families in contact. Our team partners with you to provide the personalized care your family member needs.
Our goal is to help residents recover quickly and have a healthy return home by safely treating the infection—all while staying connected to family. Our Haven Health team provides:
A warm, healing environment built on trust and compassion
Technology that allows families to stay connected during treatment
Protective measures to ensure the safety of our skilled nursing facility residents
Coordination with doctors for the most effective treatment plan
Other post-acute care, including rehabilitation services, to regain functionality
Transitioning
Our skilled nurses and care providers have safety procedures in place to help residents carefully transition into our care when recovering from an infectious disease.
Transportation
When needed, Haven Health can schedule and arrange transportation to and from follow-up appointments when a resident's personal doctor is unable to visit our facilities.
Insurance and Costs
Complimentary consultations are available to discuss everything you need to know about insurance and costs associated with memory care or nursing care in our assisted living centers.
Contact our team to learn more.
Frequently Asked Questions
What is an infectious disease center?
An infectious disease care center provides specialized treatment from trained healthcare professionals for individuals suffering from particularly serious conditions. There are several diagnosed infectious diseases, including COVID-19, certain flu strains, E. coli, diphtheria, and other infections caused by viruses, bacteria, and parasites.
Dedicated infectious disease nurses and caregivers have special training to help patients recover while also preventing the spread of the disease to others.
What complications are associated with infectious diseases?
Lasting symptoms and complications from infectious diseases vary depending on their severity. However, there is generally an element of spreadability for many of these diseases, so it's essential for caregivers to take the proper steps to lower that risk. Other conditions may cause breathing complications, dehydration, chronic fatigue, suppressed immune systems, and swelling.
What are the types of infections our team treats?
The caring professionals at Haven Health treat residents with dignity and respect while they recover from an infectious disease in our beautiful Arizona facilities. Some types of infections and infectious disease wound care we can help with include:
COVID-19

Pneumonia

Influenza (flu)

Viral hepatitis

Shingles

Diphtheria

HIV (human immunodeficiency virus)
What is the difference between contagious and infectious diseases?
While there is some overlap, there is a difference between infectious and contagious diseases. An "infectious" agent that causes an infectious disease is something that gets into the body and causes that person to become ill. "Contagious" refers to a condition that is easily spread from one person to another by coming into contact with the infected individual or their germs.
A person can have an infectious disease without being contagious. For example, an individual may contract food poisoning by consuming an infectious agent in food, but it is not contagious to others. However, the flu is both infectious and contagious because it's caused by a virus entering the body and can be spread by contact.
How long do infectious diseases last?
Different types of infections have varying recovery times. It also depends on the patient and whether they have underlying conditions or a suppressed immune system. For viral infections, symptoms can last from a few days to several weeks or longer.
Bacterial infections typically last about the same time but can linger if a secondary infection (directly following a viral infection). More severe infections, such as sepsis or meningitis, can be life-threatening and require immediate infectious disease critical care.
What is the cost of infectious disease care in a long-term care facility?
If your family member or loved one needs infectious disease care in a skilled nursing facility, contact Haven Health to speak with our team. We can discuss treatment options, insurance coverage, and what you can expect at a center for infectious disease and emergency care. Insurance may cover some of the primary care infectious disease costs.
How to get started
For those with an infectious disease in need of skilled nursing care, Haven Health is ready to help. Contact our team now to see which of our nursing and rehabilitation centers offer infectious disease care and how our compassionate caregivers help patients back to full health.
looking for more information?
We're here to help. Check out our services page for more information on what type of services are offered at a convenient haven health location near you, or send us a message below!