Joint Replacement Care at Haven Health
At Haven Health, we understand that reaching a full recovery after joint replacement surgery can be overwhelming without the right resources. That's where we can help.
what is Joint Replacement Care?
Patients undergoing joint replacement surgery need an extensive recovery care plan to help them manage pain and regain range of movement in the replaced joint. Patients can get help from a physical or occupational therapist to reduce stress and improve their overall results.
Haven Health specializes in recovery after several types of joint replacement surgeries, both total joint replacement and partial joint replacement, including:
Finger Joint Replacement
Elbow Joint Replacement
After joint replacement surgery,  prioritizing the healing process is essential for an active life. The skilled nurses, physical therapists, occupational therapists and compassionate staff at Haven Health provide the support you need to recover successfully and have a healthy return home.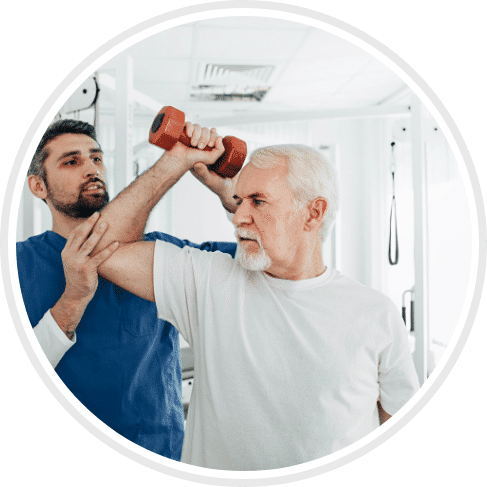 With joint replacement care offered across Arizona, Haven Health can provide the perfect solution for your needs. Contact us today for a free consultation.
how does Joint Replacement Care work?
Our Haven Health team offers specialized rehabilitation services for those who need help improving flexibility, range of motion, strength and confidence after joint replacement surgery. We provide:
A warm, healing environment built on empowerment, trust and compassion
Licensed physical therapists who are passionate about what they do
Protective measures to ensure your family member's safety during sessions
Coordination with your loved one's doctor for an effective recovery plan
Haven Health has state-of-the-art rehabilitation gyms and strength-building equipment to help residents improve physical mobility and stamina. Our goal is to help our residents achieve a successful recovery after joint replacement surgery with patience, encouragement and support for the whole family.
Transitioning
Our skilled nurses and care providers have safety procedures in place to help residents carefully transition into our care when recovering from joint replacement surgery.
Transportation
When needed, Haven Health can schedule and arrange transportation to and from follow-up appointments when a resident's personal doctor is unable to visit our facilities.
Insurance and Costs
Consultations are available to discuss everything you need to know about insurance and costs associated with post-surgical joint replacement care.
Frequently Asked Questions
1. What Should I Do After Joint Replacement?
First and foremost, follow the guidance and direction of your doctor for joint replacement care and recovery. Proper wound care, taking medications for pain prescribed by your doctor, and remaining active are all important steps to ensuring your joint replacement recovery goes as smoothly as possible.
2. How Long Does it Take For a Joint Replacement to Heal?
In general, patients who follow the steps for joint replacement care post orthopedic surgery should see a recovery time of about six months. Sometimes post orthopedic surgery recovery can take up to 12 months to return to full physical capabilities like resuming a job with heavy lifting and job-related mobility.
3. What is the Cost of Joint Replacement Care?
The cost of joint replacement surgery and care ranges between $5,000 and $30,000 depending on the hospital or inpatient facility. These costs can include the price of the actual surgery as well as post-surgery care such as physical therapy, medicine, etc.
how to get started
If you need help making a recovery plan after a joint replacement surgery, Haven Health is ready to help. Contact our team now to see which locations offer joint replacement care and how our compassionate caregivers can help.
looking for more information?
We're here to help. Check out our services page for more information on what type of services are offered at a convenient haven health location near you, or send us a message below!