Our Caring Professionals Can Help Your Loved One Recover After Knee Replacement Surgery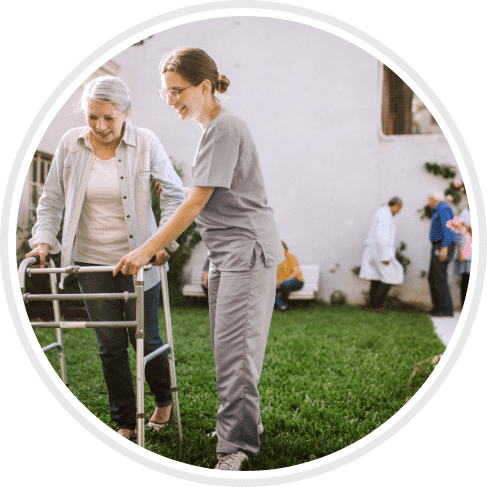 What does knee replacement surgery recovery involve?
When your family member has undergone knee replacement surgery, building back strength and functionality is essential to reach a full recovery. We design our knee replacement care to help your loved one heal and regain independence through physical therapy, occupational therapy and other skilled nursing services from our caring professionals. We have experience with:
Total knee replacement
Kneecap replacement (patellofemoral arthroplasty)
Unicompartmental or partial knee replacement
Knee revision surgery
Osteotomy knee surgery
After knee replacement surgery and the days that immediately follow, the road to recovery can seem long and overwhelming; that's where we can help. Our caring professionals ensure your loved one is carefully rebuilding the skills needed for activities of daily living (ADLs) for a quick and safe discharge.
With several locations across Arizona, Haven Health offers the perfect solution for your needs. Contact us today for a free consultation.
Recovering from a knee replacement with Haven Health
Our caring professionals offer specialized rehabilitation services for those who need help improving mobility, balance, strength and confidence after knee replacement surgery. Our Haven Health team provides:
A warm, healing environment built on trust, empowerment and compassion
Experienced and licensed healthcare providers who are passionate about what they do
Protective measures to ensure the safety of your family member during sessions
Coordination with your loved one's doctor for the most effective treatment plan
Haven Health offers state-of-the-art equipment and in-house rehabilitation gyms for all levels of physical mobility. We'll work with you and your loved one to create realistic recovery goals and provide the right support to achieve success. Learn more about our knee replacement services by contacting our team today!
When can my loved one return home after knee replacement care?
Although recovery times vary, your family member will have a dedicated team of passionate physical and occupational therapists to help them every step of the way. By building trust and respect, your loved one feels safe and confident while we help them relearn to stand, walk and improve range of motion. After showing improvement in mobility and pain management with our support, your loved one can safely return home.

Transitioning
Our skilled nurses and care providers have safety procedures in place to help your loved one carefully transition into our care when recovering from knee surgery.

Transportation
When needed, Haven Health can schedule and arrange transportation to and from follow-up appointments when your loved one's personal doctor is unable to visit our facilities.

Insurance and Costs
Complimentary consultations are available to discuss everything you need to know about insurance and costs associated with joint replacement care, including knee replacement.
How to get started
If you have a family member in need of knee replacement care after surgery, Haven Health is ready to help. Contact our team now to see which locations offer joint replacement care and how our compassionate caregivers can help your loved one thrive.
Knee Replacement Care FAQs
How long will the artificial knee joint last?
Knee replacement joints are made of durable materials designed to last for at least a decade, if not more. Depending on the type of knee replacement surgery, many knee implants still function well after 15 to 20 years! Please talk to your loved one's surgeon for more detailed information.
How long does it take to recover from a total knee replacement?
Although a complete recovery after knee replacement surgery may take several months, patients generally walk unsupported after six to eight weeks. It could take about three months or longer to fully return to normal activities. Physical and occupational therapy with regular strength and endurance training can help patients achieve a quicker recovery.
Is knee surgery and recovery very painful?
Most patients do experience pain after knee replacement surgery. However, medication and physical therapy can help manage the pain, swelling and bruising following this type of procedure. It's essential to follow your doctor's post-surgical instructions to avoid pushing yourself too hard during the recovery process.
How long do pain and stiffness last after knee replacement?
Pain, stiffness and swelling are common for two to three weeks after knee replacement surgery. However, they can persist for months depending on the patient and their recovery timeline. Working with healthcare professionals specializing in knee replacement care can help alleviate some of these symptoms through skilled nursing care and physical therapy.
What is the average recovery time for a knee replacement?
According to Mayo Clinic, most patients can resume routine daily activities within six weeks after knee replacement surgery, including walking and driving. However, recovery times vary from patient to patient. It could take up to 12 weeks before you return to higher impact activities and reap the full benefits of the artificial knee joint.
What happens if you don't do physical therapy after knee surgery?
When patients don't use muscles and soft tissues for extended periods, they can begin to atrophy. This is why it's important to get up and slowly move soon after knee surgery. It will also increase the blood flow to the area, speed up the healing process and improve mobility. Without careful and strategic physical and occupational therapy after knee replacement surgery, recovery times will be longer, and range of motion may be negatively affected.
How long does it take to feel normal after knee replacement?
After six weeks following knee replacement surgery, most people can resume low-impact activities without support. However, it may be about three months before the pain and swelling really subside. After 12 weeks in recovery, knee replacement patients should begin to feel more comfortable, confident and energetic. Be sure to consult with your doctor to see when you can resume normal activities after knee surgery.