physical therapy at Haven Health
At Haven Health, we understand that reaching a full recovery after an injury, surgery or illness can be overwhelming without the right resources. That's where we can help.
what is Physical Therapy?
After an accident or other condition that affects the ability to be active, it's so important to regain that range of motion and life skills through physical therapy. Getting moving again promotes wellness by engaging the musculoskeletal system, improving circulation and encouraging independence. Physical therapy is often done in tandem with other skilled nursing care services, such as speech language pathology, for a holistic approach to a successful recovery.
Our licensed physical therapists and skilled nursing professionals work with patients and their families to create a personalized treatment plan based on their needs and abilities. The goal is to promote a quick recover and have a safe return home. Contact our team to learn more.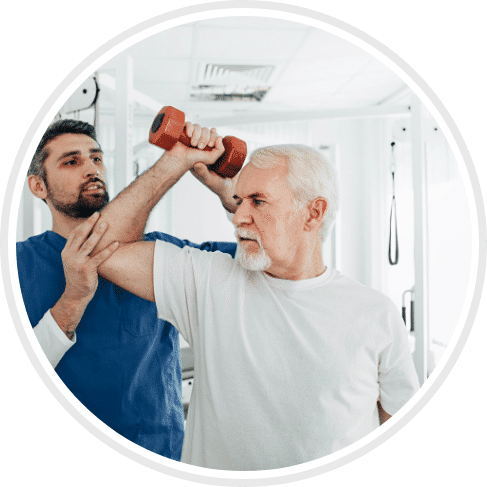 With 23 locations across Arizona offering physical therapy, Haven Health offers the perfect solution for your needs. Contact us today for a free consultation.
Residents have a dedicated team of rehabilitation physical therapy experts to help them through every step of recovery. We create realistic goals and benchmarks for success with state-of-the-art equipment and in-house rehabilitation gyms for all levels of physical mobility. By building trust and respect, patients feel safe and confident while we help them relearn to stand, manage pain, improve flexibility and more. After showing progress and improvement with our support, patients can safely return home from our skilled nursing facility.
Our caring professionals offer specialized rehabilitation services for those who need help improving mobility, balance, strength and confidence through physical therapy. Our Haven Health team also provides:
A warm, healing environment built on trust, empowerment and compassion
Experienced and licensed physical therapists who are passionate about what they do
Protective measures to ensure the safety of our patients during sessions
Coordination with doctors for the most effective treatment plan
Other post-acute care, including speech therapy and occupational therapy
Transitioning
Our skilled nurses and care providers have safety procedures in place to help residents carefully transition into our care when recovering from surgery or injury.
Transportation
When needed, Haven Health can schedule and arrange transportation to and from follow-up appointments when a resident's personal doctor is unable to visit our facilities.
Insurance and Costs
Complimentary consultations are available to discuss everything you need to know about insurance and costs associated with physical therapy.
Frequently Asked Questions
What are the benefits of physical therapy treatment?
Participating in an assisted living physical therapy program can significantly improve your mobility, reduce pain and increase strength. People experiencing pain in their joints or muscles often turn to physical therapy in a skilled nursing facility to help reduce problematic symptoms or improve mobility. By developing strategies to manage pain or exercise safely and effectively, you may find that you can participate in more activities with less discomfort. 
How much does physical therapy cost?
The cost of physical therapy depends on what kind of treatment you need. For example, assisted living physical therapy is entirely different from outpatient therapy. In general, the average session can range from $30 to $400. If you're wondering how does physical therapy work in the healing process and whether it's worth the cost, speak to a medical professional to see if you would be a good candidate. Keep in mind that your insurance provider will likely cover most treatments.
how to get started
For those in need of physiotherapy during recovery, Haven Health is ready to help. Contact our team now to see which nursing and rehabilitation center offers physical therapy and how our compassionate caregivers help patients thrive.
looking for more information?
We're here to help. Check out our services page for more information on what type of services are offered at a convenient haven health location near you, or send us a message below!