speech therapy at Haven Health
At Haven Health, we understand that the healing process after an illness or medical procedure in the hospital can be challenging without the right resources. The best environment for a full and speedy recovery is one that provides everything patients need all in one place. That's where we can help.
what is Speech Therapy?
Injuries, strokes and other impairments can make it difficult to speak or even swallow. We know how heartbreaking and frustrating it can be for patients who struggle to be understood. That's why at Haven Health, our caring professionals surround patients with compassionate experts and a healing environment to help them rebuild the essential abilities they need to communicate.
Our caring professionals offer speech-language pathology and therapy to assess patients' needs and provide effective treatment. With special speech rehabilitation services, our team can help patients:
Increase their ability to articulate words and be understood.
Increase their ability to understand others in social conversations.
Improve difficulty in following conversations by developing strategies to improve memory for Activities of Daily Living (ADLs).
Increase safety awareness during ADLs to decrease risk of injury in social situations.
Improve their ability to safely swallow and reduce coughing and choking while eating and drinking.
We can help patients build a plan to help restore speaking and swallowing functions with safe and effective speech therapies. Contact our team to learn more.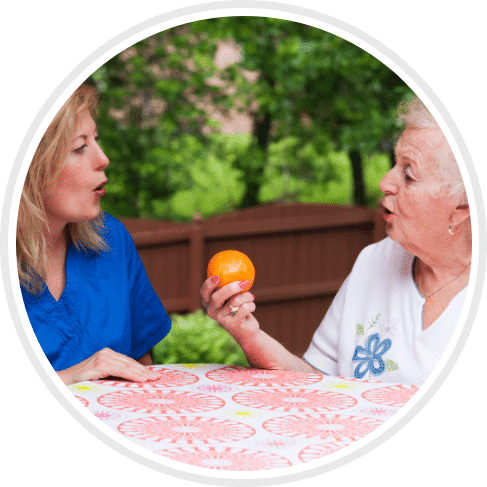 With 21 locations across Arizona offering speech therapy, Haven Health offers the perfect solution for your needs. Contact us today for a free consultation.
how does speech therapy work?
At Haven Health, patients have a dedicated team of passionate care providers to help them through therapy. Haven Health's speech-language pathologists are trained to diagnose and treat communication disorders and issues with mouth and throat control for swallowing and speaking. Our therapists look at each aspect of communication and swallow function to help patients reach their maximum potentials.
We treat the whole person at Haven Health to give our patients the best possible success when struggling with speech impairments. Our team partners with patients and their families to provide personalized care in a restful, healing setting to speed their recovery by providing:
A warm, healing environment built on trust and compassion
Technology that allows families to stay connected during treatment
Protective measures to ensure patients' safety during recovery
Coordination with doctors for the most effective treatment plan
---
Transitioning
Our skilled nurses and care providers have safety procedures in place to help patients carefully transition into our care during the course of their treatments.
Transportation
When needed, Haven Health can schedule and arrange transportation to and from follow-up appointments when personal doctors are unable to visit our facilities.
Insurance and Costs
We have a dedicated administrative team who can walk you through everything you need to know about insurance and costs associated with speech therapy.
Frequently Asked Questions
Does speech therapy actually work?
Speech and language therapy can be highly beneficial, especially when you're talking about speech therapy for kids. It can improve fluency and articulation (the ability to pronounce words clearly), develop language skills, increase social skills, and decrease frustration.
What is the cost of speech therapy?
The average cost of speech therapy is $100-$250 per session, with most insurance companies covering at least part of the cost. Depending on the speech therapy center, many therapists offer sliding scale fees based on income, making it more affordable. 
What happens during speech therapy?
Techniques may vary in speech therapy for adults and speech therapy for children. However, the basics are that patients learn how to produce sounds, improve their articulation, and increase their vocal volume. Speech therapy activities also focus on receptive language skills, such as understanding what others are saying, and expressive language skills, such as putting their thoughts into words. In addition, they work on social skills, such as turn-taking and conversation starters. 
how to get started
If you or a loved one needs treatment for speech or throat disorders, Haven Health is ready to help. Contact our team now to see which skilled nursing facility will work best for your speech therapy needs. Our compassionate caregivers are ready to work with you to build a plan for recovery.
looking for more information?
We're here to help. Check out our services page for more information on what type of services are offered at a convenient haven health location near you, or send us a message below!