skilled nursing care at Haven Health
The best environment for a full and speedy recovery is one that provides everything patients need all in one place. That's where we can help.
what is skilled nursing care?
Skilled nursing care is short-term, high-level medical care provided to patients to help with recovery after an injury, acute illness or procedure. Our goal is to help our post-acute patients recover quickly and have a healthy return home with custom treatment plans that include physical therapy, occupational therapy, medication management and other rehabilitation services.
When a doctor orders care in a skilled nursing facility after hospitalization or when patients are making little progress or even declining at home, it's important to find experienced caregivers who can help rebuild a patient's health. Contact our team to learn more.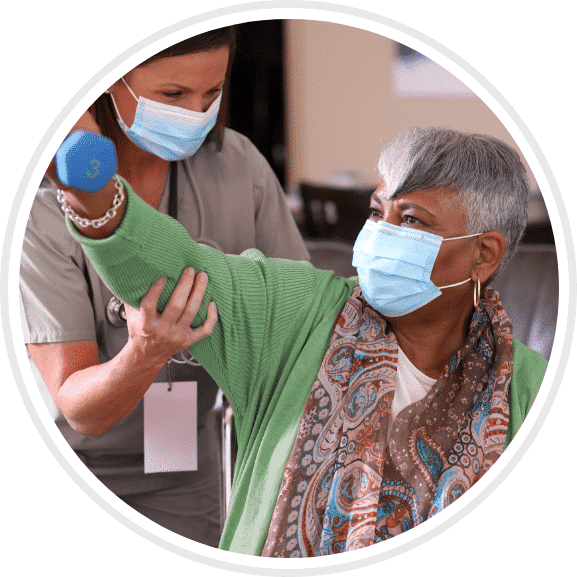 With 20 locations across Arizona offering skilled nursing care, Haven Health offers the perfect solution for your needs. Contact us today for a free consultation.
How soon can patients return home after skilled nursing care?
The skilled nurses at Haven Health can support patients through every step of recovery. Residents have a dedicated team of passionate care providers to help them regain mobility, functionality and confidence through personalized treatment plans. We provide a holistic approach to a successful recovery with exceptional amenities and expert medical advice from the best physicians and care practitioners in the area.
Because every patient has unique needs, recovery times can vary. But our goal is to provide the support and guidance patients need to recover quickly and return home safely. Contact our team to learn more.
Our caring professionals offer occupational, speech and rehabilitation physical therapy for those who need support from skilled nurses. Our Haven Health team provides:
A warm, healing environment built on trust and compassion
Help with rebuilding skills needed for activities of daily living (ADLs)
Experienced and licensed medical professionals who are passionate about what they do
Protective measures to ensure the safety of our residents
Coordination with doctors for the most effective treatment plan
Transitioning
Our skilled nurses and care providers have safety procedures in place to help patients carefully transition into our care when recovering from an injury or surgery.
Transportation
When needed, Haven Health can schedule and arrange transportation to and from follow-up appointments when personal doctors are unable to visit our skilled nursing care facility.
Insurance and Costs
Physician-ordered skilled nursing care is generally covered under Medicare Part A, VA or a Medicare Advantage plan. Contact our team to learn more.
How to get started
For those who need skilled nursing care during recovery, Haven Health is ready to help. Contact our team now to see which nursing and rehabilitation center offers skilled nursing care close to you and how our compassionate caregivers help our patients thrive.
looking for more information?
We're here to help! Check out our services page for more information on what type of services are offered at a convenient haven health location near you, or send us a message below!