There's no age limit for celebrating Valentine's Day. It's a holiday for everyone to enjoy. Whether you're in a romantic relationship or not, you can still use today as an opportunity to honor all the love you have in your life. Whatever stage of life you may find yourself in, old or young, you can find love around you to celebrate.
As we age, society teaches us that we're to be excluded from certain activities, trends, or celebrations – but you don't have to listen. No matter how old you are, you can still enjoy the little wonders in life and make the most of every opportunity to celebrate living and loving. Use today to remind yourself that you deserve kindness and joy. 
The Best Ways to Celebrate Love Today
While there are really no rules when it comes to celebrating Valentine's Day, it can be tough trying to create an itinerary for the day's activities. If you're seeking ideas or guidance for a memorable day, look no further. The following are some super fun and festive activities that are perfect for seniors looking to make the most of this Valentine's Day. 
Do Some Heart-Themed Arts & Crafts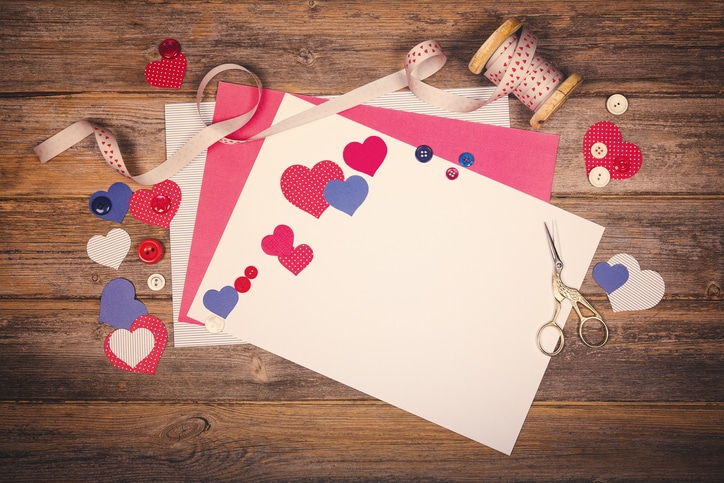 Whether you consider yourself an artsy person or not, what better time to get in touch with your creative side than today? There are so many love-themed crafts to do and so little time in the day, so let's get started! Here are some great ideas for different crafts you can make at home with your friends and family. 
Use colorful cellophane to make heart-shaped window art that looks like stained glass. 

Create handmade, illustrated Valentine's Day cards for your loved ones.

Stop by the craft store and get festive stickers, glitter, and decals to take your cards to the next level.
Make decorations for the walls and garland for the doorways and mantels. 

Design a Valentine's Day-themed wreath for your front door. 
Valentine's Day Baking is Unbeatable
What better way to celebrate the sweetest holiday of the year than by making a batch of delicious treats to enjoy? Valentine's Day is the perfect excuse to get baking. You can let your imagination run wild when it comes to the menu for today. Make your desserts even more special by pulling out all the stops when decorating them. Whether you decide on cupcakes, brownies, or a three-layer cake, make it uniquely your own.
Pink and red frosting are definitely must-haves today. You could also grab some fun heart-shaped sprinkles as well as some edible decorations and glitter. The quirkier and flashier, the better. Valentine's Day only comes around once a year, so feel free to go all out. 
Find some healthy and delicious recipes to get your diet back on track after the holidays. 
Watch Some Cheesy, Classic Rom-Coms
Today is all about feeling good and surrounding yourself with love, so why not spend it watching some feel-good romantic movies while you're eating all the sweet treats you've made? Even if romantic comedies are a guilty pleasure, you can proudly watch them all today — guilt-free. Grab a bowl of popcorn for good measure and have a salty treat with your sweets.
Make it a double or triple feature by picking your favorite romantic movies from varying decades to keep it interesting. You can find tons of curated lists with great suggestions online. We recommend checking IMDb or Screenrant, as they have great suggestions for taking this trip down memory lane. 
Listen to Your Favorite Love Songs
A good love song hits the spot any day, but today it's extra special. The quickest way to get you in a cheery mode today is to play some sweet love ballads. Songs can hold so many cherished memories from important times in your life, and today we're embracing this sentimentality.
You can even turn it into a game for you and your loved ones. Take turns choosing a song and playing just the first few bars. Then have the other person guess the name and artist. This is a fun way to reminisce and connect with one another this Valentine's Day. 
Spread Love and Kindness in Your Community
Even better than celebrating Valentine's Day with your one other person is extending the celebration out into your community. There are likely people around you who don't have anyone to share today with, and this is your chance to make sure everyone feels loved. 
If you live in a retirement community, try organizing a get-together in the common areas today. Make the crafting activity a group project. Share your baked goodies with your neighbors. Suggest to community leaders the idea of holding a movie night with classic romance films. These are just a few simple ways that you can make sure everyone has a special Valentine's Day this year. 
Get out and socialize today and get your exercise all at the same time. 
Why it's Important to Celebrate
As we age, we have to take care of ourselves. While you're most likely already taking steps to maintain and improve your physical health, it's easy for your mental health to slip through the cracks. The mental health of senior citizens is often overlooked by the general public, but that doesn't mean that it's not important. 
If you've never learned about mental health care or you've been struggling with mental health issues, just know that you aren't alone. Many people deal with declining mental health as they age, and they aren't afforded the proper resources they need to start feeling like themselves again. 
If you've noticed these changes in yourself or someone you love, that makes this Valentine's Day even more essential. Don't pass today off as just another day. Take your time to be intentional with your thoughts and feelings on this special day. Try to feel and share the love with every person who crosses your path. Above all else, remember the following: 
You deserve to celebrate today and every day.

Your age doesn't make you any less deserving of love and connection. Remind yourself that even the little things are worth celebrating, even a seemingly silly holiday like today.

Celebrating Valentine's Day is a great way to connect with others.

Isolation can take a toll on your mental health. While it can be tempting to seclude yourself from others and label it "alone time," try to get outside of your comfort zone today and socialize.

Isolation and anxiety are very common among older adults, but there are ways to combat these issues.

While mental health issues have been heavily stigmatized throughout history, we know now that experiencing this is actually incredibly common. There is no reason to feel embarrassed about admitting your struggles or asking for help. 
Learn more about identifying and treating anxiety in the elderly here. 
How Valentine's Day Originated 
According to History.com, although some aspects of the holiday's origin still remain a mystery, it is known that our modern-day celebrations include traditions from both Christianity and Ancient Rome. One of the Saint Valentine legends suggests that he was persecuted for defying the reigning Roman Emperor Claudius II. He was martyred for secretly performing marriage ceremonies for young couples after Claudius II made it illegal for military-aged men to wed. 
Even Cupid has ties to Greek mythology. The love-arrow-wielding cherub is thought to be a variation of the Eros, the Greek god of love. Over time, the image and characterization of cupid have evolved into what we know him as today. 
All of this is to say that Valentine's Day isn't just a made-up holiday created to sell cards and candy. This holiday is grounded in ancient traditions and immense personal sacrifice in the name of love. Use today as an opportunity to reflect on these historical facts and think about the stories behind it all.
Secure the Best Valentine's Day Decor 
If you're looking for ways to reach new levels of festivity, the answer you're seeking is decorations. While we've already touched on how to create your own unique, handmade decor, why stop there? If you can find high-quality home items and simple knick-knacks that are Valentine's Day themed, you can potentially save and reuse them for years to come. 
A great tip is to check your local discount store first. You can find some really neat and affordable holiday-specific home decor at these retailers. Next, try your local Walmart or Target. They will always have a large holiday section set aside where you can find any Valentine's Day decoration you could imagine. 
Let's say you've scoured all these stores and you still need more. There are plenty of online retailers where you can find incredibly unique and adorable holiday decorations that you can't find anywhere else. It's a nice touch to shop from independent artists' online shops for your holiday interior decorating. It brings a special sense of solidarity and connectedness while also offering artistic flair. 
Make this Valentine's Day One for the Books 
Now that you're armed with all the Valentine's Day information you could possibly ever need, you're ready to make the most of the holiday. Although you've experienced a number of Valentine's Days in the past, none will compare to this one. With your newfound appreciation of the holiday, you're ready to truly celebrate and share the love with those around you. 
Be sure to remind the people in your life how much they mean to you. Most importantly, don't forget to remind yourself how deserving you are of love and how worthy you are of being celebrated for your rich life so far. From this Valentine's Day forward, we're planning on going all out in the name of love.