As we get older, we know just how important it is to take care of our bodies. The best way to look after your own well-being is by eating the right foods to fuel your body. When you put good things into your body, you get great energy and a good attitude out of it. But why do healthy foods have to be so boring and disappointing? That's a trick question – it doesn't! 
With Superbowl party season approaching, it can be hard to stay on track with your diet. Whether you're hosting the party or going out to celebrate, being surrounded by unhealthy, tempting snack foods is quite the challenge. Luckily, we have a great list of healthy snacks for Superbowl Sunday that can solve all of your problems. 
Just because you're consciously trying to eat better doesn't mean you can't eat foods that are enjoyable. If you're going to a Superbowl party, you deserve to eat party foods on game day. These recipes will let you treat yourself to some delicious snacks that your body will actually thank you for this Superbowl Sunday. 
Find some great tips for eating healthy as you grow into your golden years here.
Low-Carb Superbowl Snacks
Often, older individuals experience issues with their digestive system if they aren't careful with their carb intake. Most carb-heavy foods lack essential nutrients and slow down the metabolism. When your metabolism is already naturally slowing down with age, you could be seriously exacerbating this issue by continuing to eat trigger foods. 
One of the best things you can do is pay careful attention to what high-carb foods you are consistently craving and make a conscious effort to switch these out for a low-carb alternative. While this might sound like you're giving up your favorite foods, this doesn't have to be the case. Many game day foods are known for being carb-heavy, fried, and unhealthy – but we have some recipe ideas that offer a unique twist on these dishes.
The following are some great tips for cutting down on carbs in order to boost your metabolism. These recipe ideas prove that it's possible for a low-carb snack to be super tasty. It's so much easier to make the switch to a healthier diet when the food is effortlessly delicious. 
Pairing homemade chips or crackers with your favorite dips
Making whole-grain crackers is a really easy way to cut out simple, processed carbohydrates from your diet. A whole-grain cracker also brings more flavor and texture to the snack. These are also super simple to make and only require a few ingredients. 
You could also try making homemade tortilla chips in your air fryer. This will get rid of the oil, which will keep the chips light and crunchy. Cutting out the oils by skipping deep-frying is a great choice, and your digestive system will thank you. 
Build a low-cal charcuterie board your guests will love to look at as much as they love eating it
Everybody loves a good charcuterie board. They've most definitely increased in popularity over the past few years, and for good reason. Charcuterie boards are easy to make and aesthetically pleasing, of course, but they're even more fun to eat.
Start with fresh fruits with vibrant colors as your base. Think strawberries, orange slices, raspberries, and kiwis. Now you want to add some tasty cheese. Brie, Gouda, and Muenster are three choices of cheese that will never disappoint. Add some more nutritious items like lean meats, assorted nuts, and fresh veggies. 
These are all up to your own personal preferences. You can truly make this snack board your own, which makes it one of the best healthy snacks for Superbowl Sunday. 
Unique and Heart-Healthy Game Day Appetizers 
Appetizers are a must-do if you want to have a successful Superbowl party. The same ideas that we used for the heart-healthy Superbowl snacks above still apply here. Cutting out unhealthy, metabolism-slowing foods is the top priority. Adding in healthy, fresh foods is a start, but we want to make sure they have a fun twist. 
Using your air fryer to cut out deep-fried foods from the menu
Game day appetizers almost always include deep-fried foods. Since we know that these types of foods will most definitely aggravate your digestive system and have negative effects on your health, it's a good idea to avoid them. Thankfully, there are simple and yummy alternatives to fried foods that might just become your new favorite game-day appetizers.
If you have an air fryer, you're in luck. This nifty gadget is a lifesaver when it comes to making simple, healthier versions of your favorite dishes. Not only is an air fryer convenient, but it's also able to make crispy delicious foods without the need for any added oils. 
Wings are undoubtedly one of the most popular and easy Super Bowl appetizers. While it's a fan favorite for sure, it's not the easiest food for a sensitive stomach. This is why we're breaking out the air fryer. You deserve to enjoy your chicken wings on game day, and your air fryer will make sure this happens.
Air-fried chicken wings bring a distinct, unique tasting experience. You should also have fun with the wing sauces you choose. While buffalo is an obvious choice, why not be unpredictable? What about Thai peanut chili, garlic sriracha, or hot honey glaze? The options are endless, and if you make the sauce yourself, you know every ingredient – meaning you're in control.
Dairy-free stuffed peppers are a healthy and delicious treat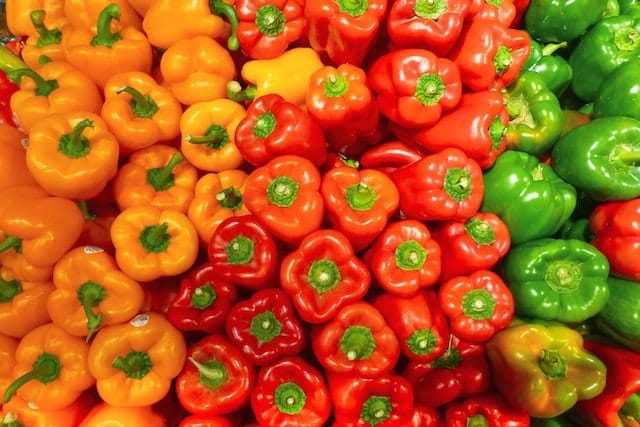 Stuffed peppers are a classic appetizer and a great option when it comes to Super Bowl snack ideas. Although you might think stuffed peppers are only worthy of a place on the game-day menu when they're deep-fried and filled with cream cheese – we've got news for you. There is a way to make this recipe good for you while still tasting amazing.
Using a dairy-free cream cheese alternative with spinach and a pinch of jalapeño juice makes these a nutritious take on traditional jalapeño poppers. You can skip the breading and frying, and you'll still have a delicious treat. If you do still want to have the crunching coating, try using a keto breading and pop the peppers in your air fryer.
Healthy Entrees That Will Feed Your Entire Superbowl Party Guestlist
While a four-course meal might not be on the menu for Superbowl Sunday, it can be a good idea to have a few entrees out for your guests to enjoy buffet-style.
When you think of game-day dinners, you might be overwhelmed by all the unhealthy options. There's no need to worry, though. The following recipe ideas will show you how simple it is to create a new, healthier version with just a few easy changes.
Make a healthier chili by using lean, white meat – or make it vegetarian
Chili is a huge fan favorite when it comes to Superbowl snack ideas. One of the best things about chili, besides the fact that it's scrumptious, is its versatility. Pick a handful of your favorite hearty ingredients, grab some chili powder, and you have a tasty chili recipe. A great way to adjust a chili recipe to your dietary needs is by swapping ground beef for a healthier alternative. 
Using chicken or turkey is perfect for those who want a protein-packed, low-fat treat. Even better, you could create a vegetarian chili that is full of yummy veggies. Garlic-roasted chickpeas are a wonderful meat substitute for this recipe, and they're also a protein-rich ingredient. 
Cauliflower crust: a healthy and delicious twist on pizza
Gluten-free and keto diets have definitely become trendy in the last few years. While many people who keep gluten-free diets do so for serious health reasons, the fact that these lifestyle diets have grown in popularity is actually a win-win for healthy foods all around. 
Because so many people have adopted these diets, many major food retailers have caught on and decided to cash in. This means that there are now tons of delicious, healthy options for gluten-free and keto foods on the market today.
Some people might be put off by a pizza crust made from cauliflower, but they're a great low-carb option that can taste just as good as the original. The best thing about pizza is you can customize it to your exact liking. You can bring your Superbowl party snacks to the next level by letting your guests make their own cauliflower crust pizzas and pick their own toppings. 
Try adding these brain-boosting foods to your diet for all kinds of health benefits. 
The Best Way to Stay on Track With a Diet is to Remove the Guilt and Shame 
Diet changes, especially drastic ones, can most definitely be tricky. It's a big change in your life, and it can be hard to stick to diligently. If you're in a position where your health is dependent on keeping these lifestyle changes, it's important to be patient and determined. The more diet changes you make, the more you should remind yourself that:
Guilt surrounding certain foods is not your own.

It's so ingrained in us to view foods as

good

and

bad

, and when we consume these

bad

foods, it's a common experience to feel guilty. When you're trying to make conscious, positive changes to your eating habits, remind yourself that you're doing it for self-improvement. Your health comes first, but you don't need to deprive or guilt yourself.

Shaming yourself won't do any good – but it could do harm.

Go easy on yourself. Making a lifestyle change like this takes time and patience. If you're beating yourself up over not eating perfectly healthy 100% of the time, it only makes sticking to your new lifestyle even harder. Be kind to yourself and enjoy the foods you eat.
Most of all, remember that Superbowl Sunday is for having fun and celebrating with your friends. We hope these heart-healthy Superbowl snacks and recipe ideas will help make it easier for you to focus on having a good time on game day.