Get the Resources You Need for Home Care with Haven Health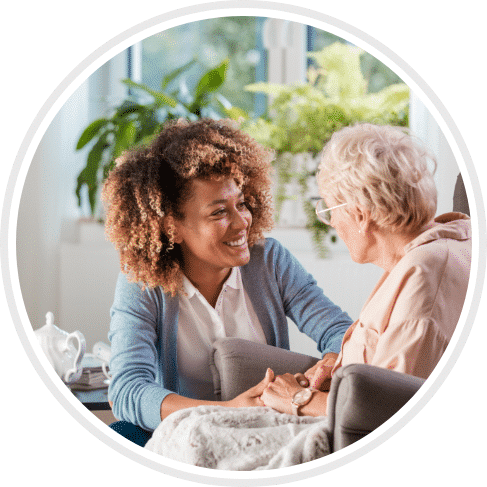 What is Home Care?
In a home setting, family members or in-home care professionals can help with personal care needs such as:
Grooming, bathing, dressing and toilet needs
Meal planning, light housekeeping and transportation
Providing safe transfer and protection from falls
Supervision for dementia or Alzheimer's disease patients
However, not all individuals are good candidates for home care. If your family member requires skilled nursing care and 24-hour access to healthcare professionals, a skilled care facility may be a better fit.
You should consider a skilled nursing facility if your loved one needs:
Catheter care
Feeding tube care
Dressings for amputations and diabetic wounds
Managing treatment-resistant wounds
Providing positional care for traumatic wounds or surgical wounds
Treatment for traumatic brain injury or spinal cord injury
Wounds requiring debridement or negative pressure
With several locations across Arizona, Haven Health offers the perfect solution for your needs. Contact us today for a free consultation.
skilled nursing care with haven health
At Haven Health, we understand that caring for a loved one at home can be challenging and overwhelming. Not having the support and resources you need could actually slow your family member's recovery process. If you're ready to consider other options to help your loved one thrive, our caring professionals are ready to help.
Our Haven Health facilities provide:
A warm, welcoming home environment built on trust and community
Transportation to appointments and 24-hour access to skilled nursing
Experienced and licensed medical professionals who are passionate about what they do
Protective measures to ensure the safety of your family member and other residents
Coordination with your loved one's doctor for the most effective treatment plan
Should you choose skilled nursing care instead of home care?
The skilled nurses at Haven Health can support your family member through every step of recovery. Your loved one will have a dedicated team of passionate care providers to help them regain mobility, functionality and confidence through personalized treatment plans. We provide a holistic approach to a successful recovery with exceptional amenities and expert medical advice from the best physicians and care practitioners in the area. Our focus is to understand your loved one as a whole to develop the treatment plan that works best.

Transitioning
Our skilled nurses and care providers have safety procedures in place to help your loved one carefully transition into our care from home or hospital.

Transportation
When needed, Haven Health can schedule and arrange transportation to and from follow-up appointments when your loved one's personal doctor is unable to visit our facilities.

Insurance and Costs
Physician-ordered skilled nursing care for your loved one is generally covered under Medicare Part A, VA or a Medicare Advantage plan. Contact us to learn more.
How to get started
If you have a family member who needs skilled nursing care during recovery, Haven Health is ready to help. Contact our team now to see which locations offer skilled nursing care close to you and how our compassionate caregivers can help your loved one get back to full health.