Our Caring Professionals Can Help Your Loved One Recover After a Hospital Stay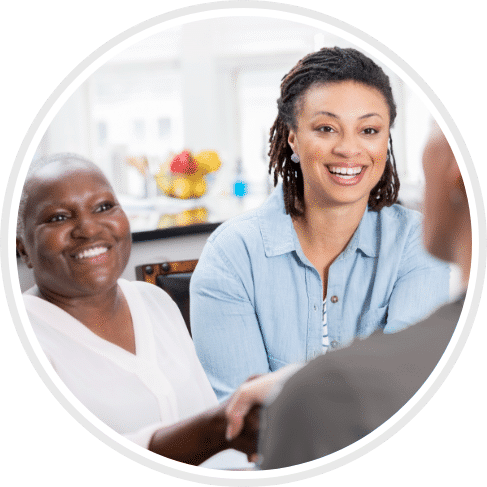 What is Post-Hospital Care?
When your family member has been in the hospital to treat an illness, injury or other medical condition, they may need help recovering between the hospital stay and returning home. Post-hospital care is specially designed to help your loved one regain independence and skills needed for activities of daily living (ADLs) using techniques that encourage physical and mental healing after being in the hospital.
Your family member may benefit from post-hospital care if they:
Have a high risk of falling without support
Need rehabilitation services to rebuild strength and ADL skills
Should practice performing daily activities safely before transitioning home
Need help with managing pain and medication
Require skilled nursing for wound care from an injury
Were told by a doctor to find post-hospital care after being discharged
Our team will work with your loved one's healthcare providers to create a comprehensive treatment plan based on individual needs
With several locations across Arizona, Haven Health offers the perfect solution for your needs. Contact us today for a free consultation.
Post-hospital Care at haven health
At Haven Health, we understand that helping your family member transition home after a hospital stay can be challenging without the right support. Working with skilled healthcare professionals who can guide your loved one through the recovery process will ensure they stay safe and make progress towards a full recovery.
Our caring professionals offer post-hospital services for those who need help with wound care, pain management and regaining independence through physical therapy, speech therapy and skilled nursing care. Our Haven Health team provides:
A warm, healing environment built on trust, empowerment and compassion
Help with rebuilding skills needed for activities of daily living (ADLs)
Experienced and licensed care providers who are passionate about what they do
Protective measures to ensure your loved one's safety during the recovery process
Coordination with your family member's doctors for the most effective treatment plan
How soon can my loved one return home after post-hospital care?
At Haven Health, your loved one will have a dedicated team of passionate healthcare experts to help them through every step of recovery. Our services include skilled nursing, physical therapy, occupational therapy for ADLs, speech therapy, wound care and other essential services that will help your family member achieve their wellness goals. Because every patient has unique needs, recovery times can vary. But our goal is to provide the personalized support and guidance your family member needs to recover quickly and return home safely. Contact our team to learn more.

Transitioning
Our skilled nurses and care providers follow strict safety procedures to help your family member carefully transition to our care from the hospital.

Transportation
When needed, Haven Health can schedule and arrange transportation to and from follow-up appointments when your loved one's personal doctor is unable to visit our facilities.

Insurance and Costs
Physician-ordered skilled nursing care is generally covered under Medicare Part A, VA or a Medicare Advantage plan. Contact us to learn more.
How to get started
If you're looking for skilled support and rehabilitation services for a family member that can bridge the gap between the hospital and home, Haven Health is ready to help. Contact our team now to see which locations offer post-hospital care and how our compassionate caregivers can help your loved one thrive.